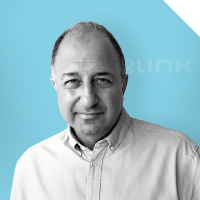 Graduate of Supelec, Paris France in 1984, he joins Hewlett-Packard central labs in Colorado Springs USA and Amsterdam as an application engineer, then moves to European Sales Manager positions for big names in ICT, Hewlett-Packard, Convex Supercomputers, Cadence Design Systems, Lucent Technologies, 3Com and Altium.
He refocused his action in the field of cloud computing and cyber security as an associated creator of NTX Research, inventor of XC cryptographic technology and "Sea-Battle" authentication with a unique Dematerialized 2-Factor Strong Authentication for users and equipments with One Time Password Authentication (OTP) in challenge-response protocol Matricial system deployable on any device, and unbreakable user secret code.
He advises for cybersecurity strategy to P2link and he brings his strong expertise in logistical processes in the USA.