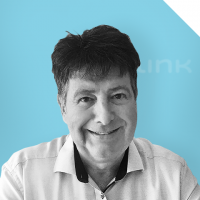 Doctor in Medicine and IAE, Paul has the experience and practice of hospital and liberal medicine in a difficult environment. President of H2AD from 2004 to 2014 (Top 20 Care Provider solutions and Business Intelligence in the telecommunications sector by Berg Insight) he accompanies the advances of Telemedicine and public health policies in France in the segment of chronic diseases.
Its contribution to the securing and hosting of health data, the "Patient Engagement", the setting up of observatories mixing human resources and health information systems, testifies to a recognized expertise on care comprehensive and efficient chronic diseases.
With P2link, Paul try to reconcile practice and new technologies like Blockchain and AI to developpe new models of care in the world for increasing quality of life and decrease cost for public and private insurances.