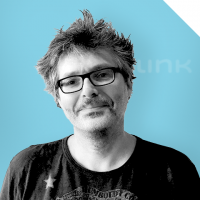 Marc is our Chief Design Officer, he has been design director for over 20 years. Specialist in Design management, graduate of Rubika – ISD France, head of several French design agencies, former member of Food Innovation Nexus (FIX) in Providence USA. He's a recognized specialist in the strategic segment of organization design, universal design, software design and development, user interface and ergonomics, inclusive design. He is punctuated with various distinctions for his clients in different topics: culinary, web…
His mastery of global design with web projects, UX / UI design, motion, product and identity, allowed him to set up a transversal and vertical vision for the P2link project, which made him one of the founders.
Difficult to imagine Marc without his great passion: "la cuisine". "Garden to Plate" could be his motto, he worked with many great French chefs, and was the designer of the French team for the Bocuse d'Or 2005 and 2011, maybe the most famous World Cooking Contest.