The patient at the heart of

P2link

's innovative strategy
The P2link experienced and renowned team develops tools focusing on secondary prevention, to reduce the duration and frequency of re-hospitalizations of patients suffering from CHF and COPD, with a significant impact on the total costs of these two pathologies.
Where you live and environmental factors have a huge impact. Patients living next to industrial areas or highways in large metropolitan areas react differently to those living in the countryside. Whatever the nuisance is, pollution, noise, heat, cold, P2link takes into account all these environmental parameters to prepare a prevention action plan tailored to each patient.
Family, friends and socio-economic conditions play a key role as well. Patients living next to their loved ones, human beings or pets, have different requirements from patients living alone at home in a remote area.
To handle these multiple and complex factors, P2link has developed a sophisticated toolkit. The P2link proprietary predictive engine can be fine-tuned with customizable sets of rules, using big data when available, to suggest personalized and individualized action plans.
P2link
aims to reduce the costs incurred by CHF and COPD patients by 10% to 15% while increasing the quality of life.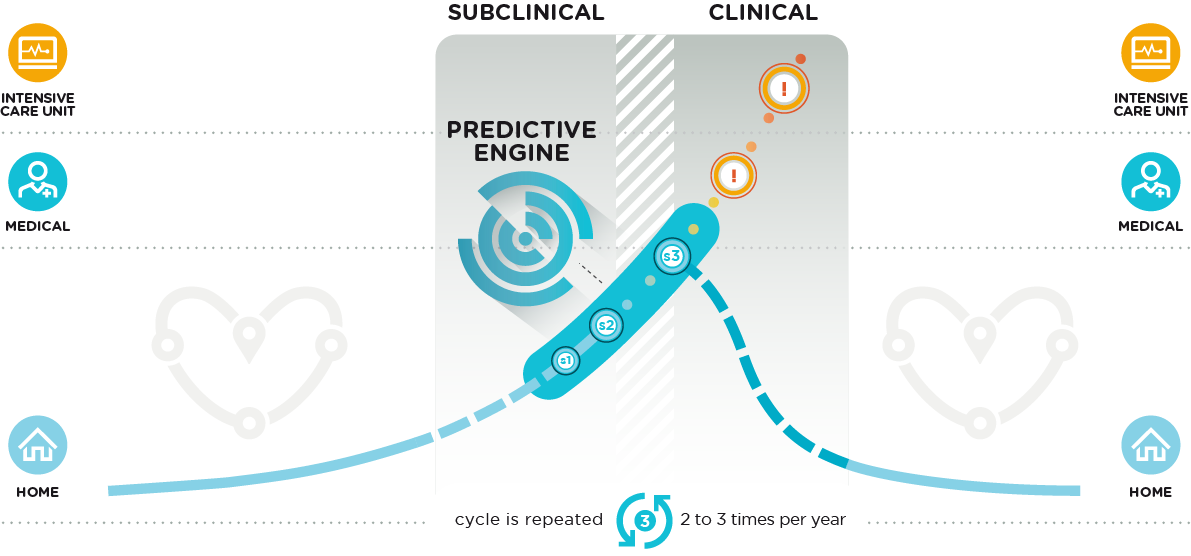 Indicators and Digital Health Center (DHC)
Disease costs spiral during the secondary prevention phase. One of P2link key learning points is that the patient must receive personalized follow-up on a daily basis to be efficient. Thus, P2link follows day-to-day many medical, physiological, biometric, psychological, and social indicators that prevent a relapse and possible hospitalization. Our Digital Health Center and its team of care managers and nurses will follow indicators coming from different distribution channels: the predictive and big data engine, IoMT, the medical team, the environment, patients' friends and relatives… The Center acts upstream by communicating and adapting to the patient.


INNOVATIVE STRATEGY