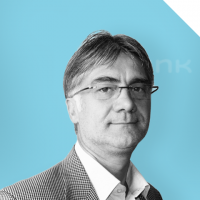 Gilbert graduated from MBA HEC Montreal. He has occupied international commercial & marketing management positions in Canada (Royal Bank of Canada & Evian with Danone Group dealing with USA & Canadian Corporate Accounts) and in London (UK) with the historical launch of Eurostar TGV.
Following then as Managing Director of OSS & Virgin Group before returning to France for Europcar International (500 Global Accounts within ACCOR Group & 30 countries). CCEF and President of ICT & Digital Economy at CNCCEF (network of C levels across 140 countries) he leverages his singular and seasonal experiences for strong international leading brands with great awareness. He is also Associate Professor and Researcher at the Mines Telecom Institute in charge of Entrepreneurship and Innovation Management at Telecom Business School.
Enhancing its great "industrial" expertise in IoT, Blockchain, Big Data, Smart City and Wearable technologies (winner in 2014 & 2015 of CES Las Vegas "innovation awards" including Digital Health Summit, worldwide CRM, and CRM) for 10 years at LaSer (part of BNP Paribas & Galeries Lafayette Groups). Gilbert Reveillon will bring to the Strategic Committee of P2link, chaired with great vision, his experience and worldwide network with outstanding strategic opportunities.